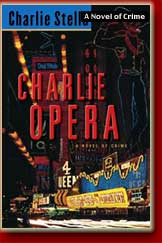 Charlie Opera
A gritty underworld thriller that takes mob bosses, hit men, and gangland wannabes to Las Vegas where the name of their game is Charlie Opera.
A guy goes to Las Vegas for a holiday. In a matter of hours he gets drunk, gets mugged, and gets dumped by his wife. Things could get worse, and do, in this new crime novel from Charlie Stella, whose work, says the San Diego Union Tribune, not only recalls George V. Higgins but also "stacks up well against the master."
With bravura, alternating brutality with humor and high-octane action with virtuoso tough-guy dialogue, Stella crafts his story of Charlie Pellecchia, whose unwitting entanglement with New York mobster Nicky Cuccia plops him in the path of the DEA, FBI, and Las Vegas police. Law enforcement may find Charlie awkwardly in its way, but elsewhere—in deluxe casino hotel suites, at deserted construction sites, on quiet residential streets—a bodybuilding punk looking to be made, a professional killer, a mob chief's double-dealing accountant, and a pair of Vietnamese gangbangers are all trying to put Charlie permanently out of the way. All because he broke a wiseguy's jaw.
Add to the mix hookers with felonious kinks, a cop deeply troubled by his wife's infidelity, a ham-fisted redneck with vengeance on his mind and some bad faith between a Brooklyn crime family and the Russian mob. Things go down tough in Charlie's opera.