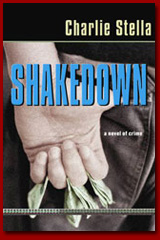 Shakedown
Get married, have a kid – it's not much to ask. Unless you've got to first divorce the mob. And Bobby Genarro only thinks he has, in this brutal, funny, shrewd new crime novel from Charlie Stella, "who," says the Chicago Sun-Times, "may just be the best crime writer you've never read."
For three months now, ex-bookmaker Bobby G has been heading down the straight and narrow. He's got the girl – pretty, and willful, Lin Yao, a video-grapher with a black belt in karate – and he's bought the ring. He's also safely stashed away a tidy, slightly tainted retirement fund. Then his old boss, a captain with the Vignieri crime family, flips and rats on his Mafioso associates. And Bobby's past begins catching up with him.
"To get down to brass taxes," as the phrase-twisting enforcer Tommy Agro puts it, the family figures it's due, say, two percent of Bobby's take. Intelligent, combative, a bit of a smart-ass, and stubborn, Bobby resists persuasion, even when he's facing Agro's muscle, a former offensive lineman who bench-presses five hundred pounds. Soon, though, Lin Yao is facing an Irish goon freelancing for the Vignieris, and before you can say the Matt Street Shadows the wiseguys' shakedown as fast as Stella's rapid-fire dialogue into warfare with a Chinese gang in the Heart of Little Italy.
Bobby G has got trouble.