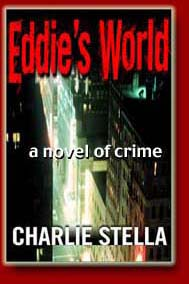 Eddie's World
Eddie Senta has a problem, in this hard-boiled, fast-paced novel of crime. His attractive second wife, a highly successful marketing research executive who hears her biological clock loudly ticking, wants a baby. She also wants Eddie to clean up his act. Their marriage is going bad.
Nothing's going great for Eddie, in fact. His stints as a firecracker word processor in the legitimate business world dull him, and the kick he once got running for the mob has turned into mere efficiency. Maybe it's a midlife crisis, like his wife's unsympathetic therapist says.
Uneasy with the feeling that his world is daily shrinking, Eddie seizes the opportunity, when it presents itself, to make an easy score and at the same time to help out a friend. While Eddie by no means needs the five grand he'll make on the deal, he longs for the thrill–and the reinvigoration of his stale fortyish self–that a quick, uncomplicated robbery might bring.